It's a little late, I know. But it has to be Friday somewhere in the work, right. Oh well, maybe not. Anyway here's the final set of this year calendar.
You can find the Supernatural set
here
.
Dean set was posted
here
.
These calendars were made to fit the size of a normal CD case. So you can print them out and put them on a CD case props backward and then you'll have a desktop monthly calendar. But these calendar were made with high resolution that means you can also print them out in the bigger size if you want.
Example: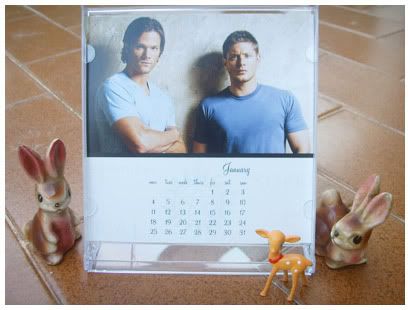 If you need help made a CD case to a calendar stand you can check out this site,
Calendar Jewel Case Instructions
. If you need any more help please let me know.
These works are for your personal use only so please don't repost them anywhere.
Set Title: Sam Winchester 2010 CD calendar
Rated: PG
Disclaimer: No copyright infringement intended. No money is made out of these.
Credit:
- All the pics belong to Supernatural creators and the CW
- The 2010 calendar brush by GetBrushed.com
Rules:
- For personal use only
- Do not hotlink.
- Do not redistribute
- Do not alter in anyway.
- Comment is love.
Preview:
( Sam Winchester 2010 calendar )